Remembering Holocaust Essays
Essays/Publications
Essays and publications relating to Holocaust study are posted here. They are focused at elementary through college students. Other essays are designed for a generic population. Whenever possible entire essays and publications are included and may be downloaded and used directly in the classroom. In other instances a sample from a book of essays is presented. Complete essay and publication information can be obtained directly from the "owner's" listed address.
If you have one or more essays or publications to submit for possible inclusion here, please send them to:
Dr. Mark Nataupsky, President
Holocaust Education Foundation, Inc.
P.O. Box 6153 Newport News, VA 23606-6153
by E-mail at: info@Holocaust-trc.org
---
A list of the essays and publications is presented below. Please click the title to obtain  detailed information from each document.
Some of the documents below are formatted as portable document files (pdf). Your browser must include the pdf plug-in to view them. The plug-in can be downloaded by selecting "Get Acrobat Reader" or the "Get Acrobat Reader" icon.
---
Generations of the Shoah International (GSI)
Summer 2017 Newsletter

The Generations of the Shoah International (GSI) newsletter has information on Holocaust education and commemoration programs from around the world. It also has Holocaust-related news articles and videos dealing with issues of restitution, anti-Semitism, Holocaust denial and more. This is the most comprehensive listing of conference and program information.
---
UNESCO asks the question:
"Why teach about the Holocaust"?
(Posted with permission by UNESCO.)
"What can be learned about preventing genocide and mass atrocities through study of the Holocaust and other Nazi crimes?"
Other genocides have occurred after the Holocaust, on several continents. How can we draw better lessons from the past?
---
Education about the Holocaust:
How Does It Help Build a Better World?
Address to Annual Conference of the Association of Holocaust Organizations
June 8, 2004
by Jerry Fowler
Staff Director, Committee on Conscience
United States Holocaust Memorial Museum
Jerry Fowler, Staff Director of the Committee on Conscience for the United States Holocaust Memorial Museum addressed an annual meeting of the Association of Holocaust Organizations on June 8, 2004. His inspiration for Holocaust education is that "What I believe, with all my heart and soul, is that in that space between what can happen and what will happen is where we stand. And what we do, what we choose, quite simply, whether we stand by or stand up, can make all the difference in the world. And learning about the Holocaust makes crystal clear the consequences of standing in that space, the consequences of choices that are made."
---
In Sudan, Staring Genocide in the Face
Sunday, June 6, 2004; Page B02
by Jerry Fowler
On June 6, 2004 the Washington post published an article by Jerry Fowler, Staff Director of the Committee on Conscience for the United States Holocaust Memorial Museum . He stated that "I was seeing with my own eyes what I had been hearing about for several months: Children are dying almost every day in refugee camps in eastern Chad, despite a vigorous international effort to get food, water and other essentials to the more than 100,000 who have fled in fear from the Darfur region of neighboring Sudan.
---
Remarks by Konrad Scharinger
Economic Counselor at the German Embassy, Washington,
Presented at the 17th Annual Conference of the Association of Holocaust Organizations,
Baltimore, Maryland June 11, 2002
Konrad Scharinger spoke about the "moral and historical background of the German compensation efforts" in the aftermath of the Holocaust to the Association of Holocaust Organizations. He also discussed the Foundation "Remembrance, Responsibility and the Future." At the time of his presentation, Scharinger was the Economic Counselor at the German Embassy in Washington, DC. The full text of his comments are posted with his permission.
---
Faith in God and Man After Auschwitz: Theological Implications
Yad Vashem — April 2002
by Emil L. Fackenheim
Philosopher Emil L. Fackenheim wrestles with the concepts of God and Auschwitz. His essay "Faith in God and Man After Auschwitz: Theological Implications" was presented at Yad Vashem in April 2002. It is posted here with permission from Emil L. Fackenheim.
---
UNMASKING 'MARTYRDOM'
A HOLOCAUST LEGACY 1939-2002
published with permission by Dr.George Halasz
Dr. George Halasz, a psychiatrist in Australia, takes a clinical look at the question: Has there been a process of cultural abuse perpetrated on the Palestinian children the same way that the Nazi propaganda machine abused the youth of Germany in the 30's? For more than 20 years he has dealt with suicidal teens in a clinical setting. Dr. Halasz is the child of a Holocaust survivor of Auschwitz. The entire document is posted on the Holocaust Teacher Resource Center web site.
---
Humor in the Holocaust:
Its Critical, Cohesive, and Coping Functions
by John Morreall, Ph.D.
published with permission by Dr.Marcia Sachs Littell
This paper was presented at the 1997 Annual Scholars' Conference on the Holocaust and the Churches, Hearing The Voices: Teaching the Holocaust to future Generations. It is available on a CD-ROM of all Scholars' Conference papers 1990-2000 published by Vista-Intermedia and edited by Marcia Sachs Littell.
---
'We are all targets'
published with permission of the Jerusalem Post
(September 24) – What is at stake is nothing less than the survival of our civilization, former prime minister Binyamin Netanyahu told the US House of Representatives' Government Reform Committee last Thursday. His address to the committee in the wake of the terror attacks on New York and Washington is published here in full.
---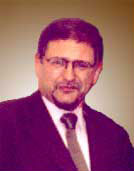 Presentation to the Association of Holocaust Organizations
16th Annual Conference, June 2001
by Dr. Shimon Samuels
Dr. Shimon Samuels is the Director for International Liaison at the Simon Wiesenthal Center in Paris. The text of his presentation is reproduced in its entirety. A short video clip from his presentation also is included.

Select to view text and video clip.
---

Presentation to The Amsterdam Conference on Remembrance
May 2001
by Professor Yehuda Bauer
Professor Bauer is the Academic Advisor to the Task Force for International Cooperation on Holocaust Education, Remembrance, and Research. His presentation was made in Amsterdam, The Netherlands, during the Task Force's meeting in May 2001.

Select to view speech and video clip
---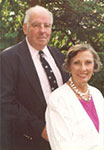 David Katz – A Holocaust Survivor
David Katz provides a personal account of the Holocaust through his autobiography. MayAnne, his wife, conveys the Holocaust through her paintings. Click the title link above to view these exhibits.
David responds to questions about his personal experiences of the Holocaust in the video clips included with this essay.
pictured: David and MaryAnne Katz 1993
---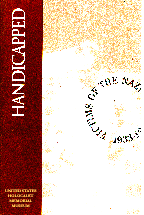 Handicapped: Victims of the Nazi Era, 1933-1945
This brochure describes the Nazi treatment of handicaped people from 1933-1945. Soon after Hiltler took power, the Nazis formulated policy based on their vision of biologically "pure" population, to create an "Aryan master race." The "Law for the Prevention of Progeny with Hereditary Diseases," proclaimed July 14, 1933, forced the sterilization of all persons who suffered from diseases considered hereditary, such as mental illness (schizophfrenia and manic depression), retardation ("congenital feeble-mindedness"), physical deformithy, epilepsy, blindness, deafness, and severe alcolholism.
---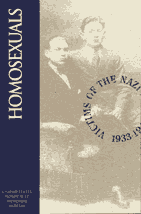 Homosexuals:Victims of the Nazi Era , 1933-1945
As part of the Nazis' attempt to purify German society and propagate an "Aryan master race," they condemned homosexuals as "socially aberrant." Soon after taking office on January 30, 1933, Hitler banned all homosexual and lesbian organizations. Brownshirted storm troopers raided the institutions and gathering places of homosexuals. Greatly weakened and driven underground, this subculture had flourished in the relative freedom of the 1920s, in the pubs and cafes of Berlin, Hamburg, Munich, Bremen, and other cities.
---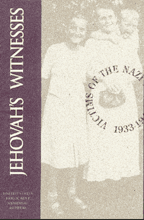 Jehovah's Witnesses: Victims of the Nazi Era 1933-1945
Jehovah's Witnesses endured intense persecution under the Nazi regime. Actions against the religious group and its individual members spanned the Nazi years 1933 to 1945. Unlike Jews and Sinti and Roma "Gypsies"), persecuted and killed by virtue of their birth, Jehovah's Witnesses had the opportunity to escape persecution and personal harm by renouncing their religious beliefs. The courage the vast majority displayed in refusing to do so, in the face of torture, maltreatment in concentration camps, and sometimes execution, won them the respect of many contemporaries.
---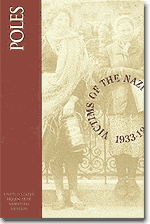 Poles: Victims of the Nazi Era 1933-1945
During World War II Poland suffered greatly under five years of German occupation. Nazi ideology viewed "Poles"- the predominantly Roman Catholic ethnic majority- as "sub-humans" occupying lands vital to Germany. As part of the policy to destroy the Polish resistance, the Germans killed many of the nation's political, religious, and intellectual leaders. They also kidnapped children judged racially suitable for adoption by Germans and confined Poles in dozens of prisons and concentration and forced labor camps, where many perished.
---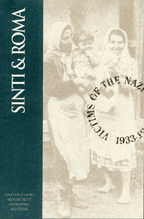 SINTI & ROMA: Victims of the Nazi Era 1933-1945
Between 1933 and 1945 and Roma ("Gypsies") suffered greatly as victims of Nazi persecution genocide. Building on long-held prejudices, the Nazi regime viewed Gypsies both as "asocials" (outside "normal" society) and as racial "inferiors"—believed to threaten the biological purity and strength of the "superior Aryan" race. During World War II, the Nazis and their collaborators killed tens of thousands of Sinti and Roma men, women, and children across German-occupied Europe.
---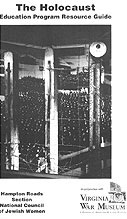 The Holocaust Education Program Resource Guide
Hampton Roads Section National council of Jewish Women in conjunction with Virginia War Museum
The study provides an educational experience through which students can develop an understanding of how the holocaust emerged from a progression of events. It also provides a basis from which students can draw conclusions about what society can learn from these events and how they relate to current events.
This booklet is designed to provide teachers with information and suggested activities that will help students participating in the Holocaust Education Program obtain the most from their program. It is divided into background information and pre- and post-visit activities. The information provided has been developed to support the program lecture while providing a vehicle to assist the teacher in student preparation. Post-visit activities have been designed to provide additional information sources and suggestions for teacher-led exercises.
---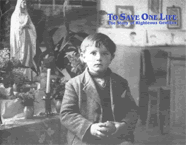 To Save One Life
The Story of Righteous Gentiles
(This document requires Acrobat Reader)
Please write to Dr. Shulman for a free paper copy of this brochure.
Teachers may request a class set at no cost.
Mail your request to:
Dr. William L. Shulman,
Director Holocaust Resource Center and Archives
Queensborough Community College
The City University of New York
222-05 56th Avenue
Bayside, New York 11364-1497
---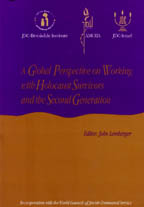 A Global Perspective on Working with Holocaust Survivors
and the Second Generation
Editor: John Lemberger
As the population of Holocaust survivors ages, their needs are becoming more complex and more acute; more attention is also being drawn to the need to understand the impact of the Holocaust on the children of survivors and provide support to this group.
This volume presents the proceedings of the Preconference Institute on Working with Holocaust Survivors and the Second Generation, held July 3-4, 1994, in Jerusalem. The interest generated by the conference and the high level of participation attested to the importance and timeliness of the issues raised.
---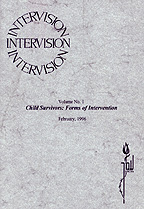 INTERVISION
Volume No.1
Child Survivors: Forms of Intervention
The present collection of articles is the first in the Intervision series. The series reflects the psychological thinking of psychotherapists at the Jerusalem branch of AMCHA. Intervision constitutes an arena created to share with the wider community the specific therapeutic experience which has accumulated in the Jerusalem branch over the years.
This first volume is the result of an exciting, stimulating group effort by the authors. The title "Intervision" attempts to express the vital importance of merging different points of view, of becoming acquainted with and understanding the specific needs of persons who experienced severe developmental trauma.
---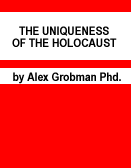 THE UNIQUENESS OF THE HOLOCAUST
by Alex Grobman, Ph.D.
Dr. Alex Grobman wrote an insightful paper that investigates whether or not the Holocaust was a unique event. He compares the Holocaust to other horrific mass killings and assesses elements that are common or different in each of them. This paper can be an essential tool in studying and understanding the Holocaust.
---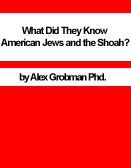 What Did They Know? American Jews and the Shoah
by Alex Grobman, Ph.D.
Dr. Grobman presents the data showing when information about the Holocaust was printed in various newspapers (e.g., the New York Times). He also addresses the issue of why many people did not believe those reports.
---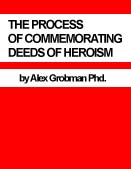 THE PROCESS OF COMMEMORATING DEEDS OF HEROISM
by Alex Grobman Ph.D.
In 1953, the Knesset passed the Martyrst and Heroes' Remembrance Law creating Yad Vashem in Jerusalem, Israel's national memorial to the six million Jews. As part of its mandate, Yad Vashem established a Commission for the Designation of the Righteous to honor "the high minded Gentiles who risked their lives to save Jews." The commission is chaired by a member of the Supreme Court of Israel.
---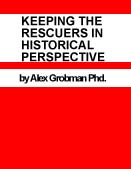 KEEPING THE RESCUERS IN HISTORICAL PERSPECTIVE
by Alex Grobman Ph.D.
"Stories about Christian rescuers of Jews during the Holocaust threaten to erase from our collective memory the epidemic outbreak of gross cruelty that accompanied the advance of the Nazi terror machine . . ." declared Fanya Gottesfeld Heller, a survivor of the Holocaust, in a letter to The New York Times. Although she had been saved by righteous Christians, she is distressed that "not only the guilty . . . prefer anointing the heroes to condemning the villains," but "an entire generation of Jewish youth, secure in their own society, wants desperately to be assured that the killers, rather than the rescuers, were the aberration."1
Lola Hylander
By LOLA HYLANDER, aged 13.
Lola attends Cheltenham Ladies College. This piece was submitted to the Prime Minister's Holocaust Commission Youth Competition and received a commendation.
The Holocaust was the attempt to wipe out the entire Jewish race in the 1930s and during WW2. The genocide was attempted by the Nazis, led by Adolf Hitler, a soldier who served in WW1. Hitler developed a hatred for Jews, partially because they were different but also because he wanted to create a common enemy as he tried to grab power; someone everyone could hate, who he could promise to destroy in return for their allegiance.
In six years, over six million Jews were killed, mainly in concentration camps and ghettos. Despite it being horrifying, it is very important that we remember the Holocaust and its events. But if it was so terrible, then why remember? Shouldn't we learn to forget, and focus on our positive history and future?
Firstly, it is very important for people of any background to know their history. That is how culture is handed down. This is what makes us all so colourful and interesting. It helps us to have our own identity, and gives us the chance to witness and marvel at the identities of others.
Winners of the Prime Minister's Holocaust Commission youth essay writing competition outside 10 Downing Street.
We are all different and it should be celebrated. I feel that when you learn to respect your own history, you start to respect others too. And that has to change you and make you behave in a positive way.
For example, a Jew of our generation should know the suffering their family went through, so they can remember those who died as people who were good and did not deserve what they got. The equivalent may apply for somebody whose family helped Jews, maybe by providing them food or water, or hiding them, knowing the risks.
It could even be the case for somebody whose relatives may have been involved in the persecution of Jews.
But even more important than our own grief, it should teach us about the dangers of not just anti-Semitism, but racism in general. We have experienced racism at first-hand, in our grandparents' lifetimes, and it cost us a large chunk of our population.
So as you can see, the lessons we should be learning from the Holocaust have nothing to do with Jews at all.
Another reason we should remember the Holocaust is to develop how we use our brains in extreme situations. In the aftermath of WW1, Germany was very poor, and it is when people are hungry, that dictators often emerge and seek to grab power.
They offer solutions to peoples' hunger and poverty, and however cruel or unrealistic the solution is, people want to believe it. That is why otherwise kind people tolerated such horror.  Hitler, using propaganda and much planning, managed to convince many of the Germans to possess a severe hatred for the Jews, and anyone else socially, politically or racially different. He may have even threatened them, or forced them to join him. They followed his orders without question. We must learn to always be aware of what we are getting into and whether or not it is moral.
Each of us has a similar moral compass, whatever our religion. But at certain times in history, we have chosen to not look at it. As a Jew, whose family was a victim of the Holocaust, it is a massive responsibility for me to always check that compass.
My third and final reason for remembering the Holocaust is to do with stories.
We must remember it now rather than later, when it just becomes a tale. When we learn about things that happened hundreds of years ago, for example the Norman Conquest, it seems like such a long time ago that we regard it as a story.
Today, we see the Holocaust as an event that happened not long ago, allowing us to really understand and learn from it. But in one hundred years or so, or even less than that, it will just seem like a tale we are told, just like all the other historical events we learn about. And because of that, we will ignore the lesson it is teaching us.
Holocuast survivor Ben Helfgott marks Yom HaShoah in Hyde Park.
We have seen the wonderful things that mankind is capable of. However, we have also seen our capacity to create destruction. And even as we have become more civilised all the evidence tells us that we still possess the ability to be cruel to our fellow man on a huge scale.
In times of peace we forget this, and also because we are lucky enough to live in a peaceful country, it is easy to forget that the world is a dangerous place.
Bad events in history are a warning about what can happen if we are not careful. They are not fiction, and the passing of time must never be allowed to turn them into stories as opposed to events, because stories suggest make believe, then they lose the power to help us and prevent us from making the same mistakes a second time.
Even in 1933, when it was clear that Hitler was promoting anti-Semitism to the German people, many Jews chose to ignore the warning, and it cost them their lives.
And that is why it is so important to remember the events of the Holocaust and every other Holocaust since. Some people may try to forget, and to repress their feelings and memories of the panic and hatred, but the events have left us scarred, and we are incapable of forgetting and nor should we. The Holocaust should teach us to be tolerant of all people, whatever their religion or colour, and to unite against the abuse of human rights whenever we see it happen, whatever race it is happening to.
We must remember the Holocaust because we must remember that however civilisation develops, people still need protecting. And as sad as it sounds, the best way to remember how cruel men or women can be is to remember events like the Holocaust.
But how we ensure that the lessons learnt from the Holocaust are never forgotten is more difficult.
Firstly, we must remember and commemorate. Today, we can't imagine how anyone could forget the terrible things that happened. But the truth of the matter is that even though the Holocaust is still very alive in the minds of Jews, or people that lost family members, it is already starting to change from being recent history to becoming a historical fact.
People believe it could never happen again. Even Jews have become complacent about this, believing it could never happen again – even turning a blind eye when it happens to different races in different countries.
As such, my first and most simple belief is that we must always remember and commemorate the Holocaust. We must commemorate it as if it happened yesterday. We must never allow it to become a story.
Of course, the problem here is how can we ask non-Jews to commemorate a tragedy that seems personal to us alone? My argument, that I will try to communicate, is that the Holocaust is merely one of many atrocities committed against minorities, and when we commemorate one Holocaust, we should be commemorating them all. As such, I would rather think of Holocaust Memorial Day as being a day we remember all victims of genocide and racial discrimination where ever they come from.
Secondly, I think it would be very powerful to create a huge memorial to victims of genocide. I recently visited Y'ad Vashem, the Holocaust memorial in Israel. It was very moving but I was also aware that it was a private memorial for Jews alone.
Some of the 40,000 concentration camp inmates liberated by the British, suffering from typhus, starvation and dysentary, huddle together in a barrack at Bergen-Belsen, Germany, in April 1945. (AP Photo)
Additionally, although they have a huge catalogue of names in an attempt to remember all victims, apart from a few exceptions, it didn't really allow individuals to remember their lost family members.
On a different note, often when you see a WW1 monument in a small village in England, it will mention the actual names of people who have died. I love the idea of an enormous field or piece of countryside, dedicated to all victims of genocide, big enough to let them be remembered as individuals, families, villages, or countries.
Thirdly and finally, we must commit ourselves to ignoring our own personal, and sometimes selfish, interests, and caring about human rights. Not just at home, but across the whole world.
The universal declaration of human rights was approved by the United Nations in 1948, in direct response to the Holocaust. Today, many people think it is no longer needed. What they forget is that back in the 1930s, people also thought it wasn't needed, and that is why the Holocaust was allowed to happen.
And those are my reasons why and how we should remember the Holocaust. It was a landmark in our history. We must do everything in our power to prevent it from happening again.
Like us on FacebookGet our newsletterFollow us on Twitter