Harry Whittington Bibliography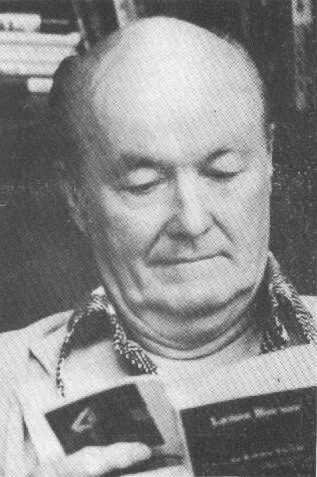 Although Harry Whittington is best-known for his hardboiled noir thrillers, he was also an exceptional western writer. He penned about twenty-eight westerns during his forty-year writing career, six of them Longarm stories, a further four movie paperback tie-ins. But each one remains a quality act.

To escape from a childhood blighted by poverty, Henry Benjamin Whittington -- who was born in Ocala, Florida on 4th February 1915 -- became a voracious reader. Indeed, it was this love of words that inspired him to become a writer in the first place. When he was seventeen he went to work as a copywriter at the Griffith Advertising Agency in St Petersburg, Florida, and the following year became assistant manager of the town's Capitol Theatre.

In 1936 Whittington met and married fellow Floridian Kathryn Odom, and two years later he became the editor of the St Petersburg Advocate, a position he held until he joined the U.S. Navy in 1945.

Upon returning to civilian life in 1946, the former Petty Officer went to work as a freelance writer, taking advantage of his navy G.I. Bill to study his chosen craft. "Suddenly the scales fell from my eyes," he later recalled. "I understood plotting, emotional response, story structure. From the moment I learned to plot, I was assaulted with ideas screaming, scratching and clawing for attention."

Whittington later said that wrote for more than a decade before he truly learned to plot, and spent at least seven years writing steadily before he sold anything. In June 1943, however, he finally made that all-important first sale -- a short story to United Features. It was to be the first of more than a hundred short stories and novelettes the author would write over the next thirty years.

In the summer of 1946, Phoenix Press bought his first full-length western, Vengeance Valley. "I'd lived my teen years on a farm with cows. We had less than a hundred, but when you've hand-pumped ten-gallon tubs of water from a hundred-foot well to fill [their] bellies, you know more than you need to."

Whittington's westerners were "people in a raw, rugged land who loved, hated, feared and saw murder for what it was -- murder. They got sick at the thought of using a gun. They used guns as you would in the same situation -- as a last resort."

For all that, however, Vengeance Valley is a fairly standard western that is very much of its time, and in no way hints at the classic stories that were still to come.

In 1954 Whittington published his second full-length western, the long and often remarkable Saddle the Storm. Here he eschewed all the ingredients of the traditional western and instead offered up a surprisingly sensitive and wholly absorbing portrait of love, insecurity, murder and friendship gone bad, all set against the backdrop of a small-town Independence Day celebration. Saddle the Storm was voted one of the top six westerns of the year by the Saturday Review of Literature, and number one in the top ten westerns of 1954 by the Western Writers of America.

"There was much talk in the fifties about the writers who 'lived' their stories," Whittington later wrote. "I didn't write that kind of story anyway. I wrote about people, their insides, their desires, and fears and hurts and joys of achievement and loss. If a character hurt in his guts, I wrote to make you feel how bad he hurt. I knew about emotional pain, which is the worst kind, and about physical pain. I was in two fights. In one, I got my front teeth smashed loose. In the other, overmatched, I was struck sharply in each temple by fists with third knuckle raised like a knot. When I wrote about pain, I knew what I was talking about."

The author's to tell torrid tales of sex, addiction and violence made him the perfect choice to write paperback adaptations of such movies as Desire in the Dust (1955), which is probably best described as a sort of noir western. In France, where he was always highly regarded, Le Monde's literary critic observed that, "With this novel, Frenzie Pastorale [Desire in the Dust], which compares favourably with Erskine Caldwell's best, Whittington asserts himself as one of the greats among American novelists."

Another western movie tie-in, Man in the Shadow (1958), drew fulsome praise from the French edition of Ellery Queen Mystery Magazine. "Whittington's style is uncommonly lean and bare -- it must have been difficult for the adapter to get his tone for French readers. But the impact is vigorous, the craftsmanship so smooth that one identifies with these characters in their anxieties, their furies, their indignation, their rebelling against injustice, and so we fully recommend this book to you."

Although movie rights would eventually sell in no less than fifteen of Whittington's own novels, it was the publication of another exceptional western, Trouble Rides Tall (1958), that finally brought him to the attention of Hollywood.

Trouble Rides Tall is the story of one day in the life of 'trouble marshal' Bry Shafter. The action really hots up. however, when a prostitute is murdered. Who killed her? The rest of the town doesn't seem to care. But Shafter is determined to bring the killer to justice.

As with all of Whittington's westerns, there's much more going on here. This is a story about small-town intrigues. Having reached a turning point in his life, Shafter himself is forced to confront his own personal demons. All the characters are vividly-drawn, and the scenes in which they appear are visual and often stunning. The author's gift for expression is used powerfully and to tremendous effect.

Warner Brothers offered Whittington five hundred dollars a week to come west and adapt the book as a vehicle for Gary Cooper, but though nothing came of the movie, Whittington's screen treatment gradually evolved into the TV series Lawman, starring John Russell and Peter Brown. Lawman ran for four seasons and an impressive 156 episodes.

Having been bitten by the film, Whittington wrote, produced and directed a low-budget horror film of his own in 1960, but Face of the Phantom, as it was called, failed to find a distributor. However, Whittington's name was eventually connected to a number of more successful productions, including Adios, Gringo in 1969.

His next western was the tough cavalry story Vengeance is the Spur (1960). Desert Stake-Out, The Searching Rider and Wild Sky followed over the next two years. In 1962, Whittington published Cross the Red Creek, which tells the story of Jim Gilmore, a man who has spent his lifetime running from trouble, but who decides to stop and confront his past when he is wrongly accused of robbing a bank.

Whittington followed the story with A Trap for Sam Dodge (1962), a tightly-plotted page-turner in which former lawman Sam Dodge returns to the his home-town in order to attend the funeral of his one-time boss, Miles Ringo ... and also to find out who shot Ringo in the back. Vivid imagery and a brooding sense of menace permeate the book, and the denouement, when it finally comes, is totally unforeseen.

Shortly after the publication of Don't Speak to Strange Girls in 1963, Whittington seemed to fall out of favour with his regular publisher, Fawcett, and following his paperback adaptation of Samuel Bronston's The Fall of the Roman Empire the following year, wouldn't write for the company again until 1969's western movie adaptation, Charro!

In 1964 he wrote High Fury, another compelling western that was, as usual, equally keen to examine the complicated lives and tangled emotions of its cast. In this one, Brett Landers rescues a girl from certain death in the badlands country. But who raped her and left her for dead? Landers decides to find out, but he's nursing a secret of his own -- that he's actually wanted for murder himself ...

Around about this same period, the author was hired to write one 60,000-word sex novel a month, each to be issued under one or other of the publisher's various house-names. Greenleaf was the largest of the adult publishers who flourished at a time when the boundaries of what was considered to be pornography were being tested in the Federal courts, and for a thousand dollars a book, Whittington needed no second urging. Incredibly, he produced a new title for them every month for the next thirty-nine months.

Whittington's next western was Wild Lonesome, in 1965. Here was another of his typical heroes -- a good man framed for a bad crime, and whose best friend had turned against him. Valley of Savage Men (1965) is another taut and involving story set against Whittington's harsh and often cynical view of the frontier.

The author continues: "The novel a month with the other work I was trying to do, plus the tensions and the debts, exhausted me. Emotionally. Mentally. Physically. I cried at weather reports. Then came the coup de grace."

For some time, Whittington had been writing novelettes for Man from U.N.C.L.E. Magazine under the name Robert Hart Davis. Now, the magazine's publisher wanted him to write an original, full-length novel to cash in on the popularity of the TV series. There was, however, a catch. Where Whittington had always previously signed royalty contracts, the publisher now offered a flat fee of fifteen hundred dollars for the purchase of all rights.

Advised to accept by his agent, Whittington's book, The Doomsday Affair (1966), went on to become an international bestseller, staying in the Chicago Tribune paperback charts for more than a year. Had he held out for royalties, he could realistically have earned at least ten times his original fifteen hundred.

It proved to be the final blow. "I wanted to go on, pay no attention to setbacks, overlook discouragement or double-cross. With all my heart I wanted to, but I was too tired, too disappointed, too depleted. I still loved to write, but nobody cared, nobody wanted me. So sadly, I closed up shop."

He went to work as an editor in the U.S. Department of Agriculture, working for the Rural Electrification Administration. "I'd reached the low place where writing lost its delight."

In 1974, however, Whittington's wife finally arranged a meeting between her husband and literary agent Anita Diamant, and shortly thereafter Whittington -- now approaching his sixtieth birthday -- quit his day job and went back to writing full-time. From his small but elegant house overlooking the Gulf of Mexico, he wrote hios comeback novel, Master of Blackoaks (1976) a Deep-South 'slave gothic' written as 'Ashley Carter'. The book -- a typical plantation saga -- spawned three sequels. In time, Whittington also continued the Falconhurst saga begun by dog-show judge and breeder Kyle Onstott and, later, art director and antiques dealer Lance Horner.

During his lengthy tenure as Ashley Carter, Whittington also returned to the western genre to write a number of books in Jove's long-running Longarm series, under the house-name 'Tabor Evans'. Many bibliographies credit Whittington with as many as nineteen titles, but actually he wrote just six. His final contribution, Longarm in the Big Thicket (1982) remains one of the best books in the series -- no mean feat, when one considers that Longarm himself is now rapidly approaching his 400th adventure.

Harry Whittington continued to write full-time right up to his death on 11th June 1989, and in the years since, he has come to occupy near-legendary status.

He once described his writing life as "a blast. With all the fallout, fragmentation, frustration and free-falls known to man, I've careened around on heights I never dreamed of, and simmered in pits I wouldn't wish on my worst enemy, and survived."

Certainly the author leaves behind an impressive body of work that has already, quite successfully, stood the test of time.

This article is about the American novelist. For other people of the same name, see Harry Whittington (disambiguation).
Harry Whittington (February 4, 1915 – June 11, 1989) was an American mystery novelist and one of the original founders of the paperback novel. Born in Ocala, Florida, he worked in government jobs before becoming a writer.
His reputation as a prolific writer of pulp fiction novels is supported by his writing of 85 novels in a span of twelve years (as many as seven in a single month) mostly in the crime, suspense, and hardboiled noir fiction genres. In total, he published over 200 novels. Seven of his writings were produced for the screen, including the television series Lawman. His reputation as 'The King of the Pulps' is shared with author H. Bedford-Jones. Eight of Whittington's hardboiled noir novels were republished by Stark House Press.[1]
Pseudonyms[edit]
Whittington was published both under his own name, and with several pseudonyms:
Ashley Carter
Curt Colman
John Dexter
Tabor Evans
Whit Harrison
Robert Hart-Davis
Kel Holland
Harriet Kathryn Myers
Suzanne Stephens
Blaine Stevens
Clay Stuart
Hondo Wells
Harry White
Hallam Whitney
Henri Whittier
J. X. Williams
William Vaneer
External links[edit]
Sources[edit]